Dress Code and Conduct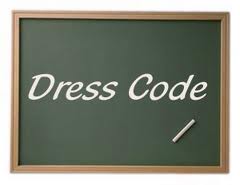 Sixth Form Dress Code
The following code defines what is acceptable for Sixth Formers in our school. Anyone not following these guidelines will be asked to go home to change.
For the boys we would expect smart business attire:-
Proper shoes – not canvas
Chinos or smart trousers
Short or long sleeved shirts or a polo shirt with a collar
Blazer or smart jacket (if applicable and NOT an outdoor coat)
On Mondays and mass days:- a suit or trousers with a jacket and a tie
For the girls we would expect smart business attire:-
Proper shoes not canvas or too high
A dress, skirt or pair of smart trousers
A blouse or top
Blazer or smart jacket (if applicable, NOT an outdoor/denim jacket or coat)
On Mondays and mass days:- smart clothing with a jacket
The following applies to all Sixth Formers, every day:-
No blue jeans, skirts or jackets
No shorts
No sports trainers or canvas shoes of any type
No round neck T shirts
No visible piercings other than a single earring
No ripped trousers
No unacceptably tight or revealing clothing
Sixth Form Code of Conduct
The following conditions are an integral part of joining the community of Blessed George Napier Sixth Form;
Striving to be an appropriate role model and set an example for younger students
Bringing credit to yourself and the school at every opportunity
Having respect for all other members of the school community
Commitment to independent study, typically 3 hours individual work a day after school hours
Attending all lessons without exception
Registering in the morning and afternoon
Always being punctual
Being fully involved in Assemblies and School Masses
Completing set work on time
Making good use of the time available in school for study
Dressing and behaving in a manner appropriate to a member of the Sixth Form
Attending all "Extended Project" lessons and producing the work required to gain the qualification which attracts UCAS points
If you have any queries or are unsure if something is acceptable, please speak to
Mrs O'Donnell, Mrs Ellul or Mr Thornton at any time.